[ad_1]

by FCTI, Inc.
Millennials don't trust advertising. On a scale of five, well over half (65%) rate advertising as two or lower for truth, according to a 2014 study from The McCarthy Group. Your sales people get a similar ranking and your website? Only slightly better – with an average ranking just under three (2.7).No worries, though. You still have the adults – Boomers and Gen X.
Bwahaha! Just messing with you. By now we're all aware Millennials are far from children.
Born 1981-1995 and ranging in age from 37-23, they comprise the largest portion of the adult US population. Their shear numbers even outstrip Baby Boomers in their prime. So, they're kind of a big deal. Which makes the next bit of news even worse. In 2018, The McCarthy Group polled Millennials again. The result was a sever up-tick in distrust of traditional marketing to eighty-four percent (84%).
They don't trust sales or marketing…but they do trust their peers. According to B2C Community, eighty-two percent (82%) of consumers seek referrals before making a purchase. Nielsen reports ninety-two percent (92%) of consumers trust referrals from people they know.
The Force is in Delight
"I'm starting to see a couple cracks in 'Ye Olde Funnel'," said Brian Halligan, CEO and Co-Founder for HubSpot. Speaking on stage at INBOUND 2018, Halligan put the standard marketing funnel up on screen.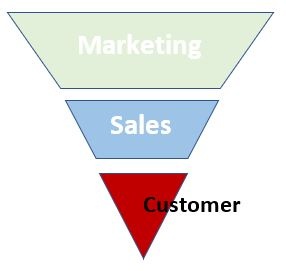 Halligan points out two issues with the existing marketing funnel model.
Customers are no longer the end game. They are an input.

Marketing and sales assets are no longer a one-time piece. They are ongoing.
With so much consumer focus on positive references and referrals, Halligan argues the future is in turning clients into advocates for your business. Making your account holder happy, "delighting" them, is the key to success.
How to Delight
You've always tried to have an account holder satisfaction focus. How is this any different? Let me ask you a couple questions:
Are the people who answer your phones given resources and time to appropriately handle account holder concerns?

Do you have multiple service channels that set reasonable response expectations? (social media, web chat, email, phone)

Does your institution own its screw-ups and say you're sorry?

Is your marketing and sales messaging honest and transparent?

Is your branch/web/mobile experience designed to be as friction-less as possible?
These are important considerations. Because "Delighting" account holders is about putting what is best for them first – not only in the customer service department but throughout the institution.
In a time where referrals are the new marketing and sales, "Delight" is the force that pushes growth. And, in order to truly impress, it has to be a part of financial institution culture.
Discover a new way to "Delight" at the ATM…with MBA® from FCTI!
Topics: digital marketing, credit union marketing, bank marketing, bank ATMs, credit union ATMs, self-service
---
Rebecca Hellmann has been researching and writing in the payments technology industry for over six years. Prior to the payments industry, Rebecca developed marketing, branding, and content for businesses such as Bil-Jac, Benjamin Franklin Plumbing, and Homestead Furniture. She currently works as Director of Marketing for FCTI, Inc.
Find me on: 
[ad_2]

Source link