[ad_1]

Total Property Portfolio Value stands at USD 352 million (AED 1.291 billion), an increase of 11.5% following the Uninest student accommodation acquisition in May 2017

Interim dividend of USD 0.0382 per share paid for the 6-month period ending 30th June 2017

Portfolio occupancy at 86%, rising by 1% on the previous quarter
Dubai, United Arab Emirates, 1st August 2017: ENBD REIT (CEIC) Limited ("ENBD REIT"), the Shari'a compliant real estate investment trust managed by Emirates NBD Asset Management Limited (the "Fund Manager"), has announced its Net Asset Value for 30th June 2017.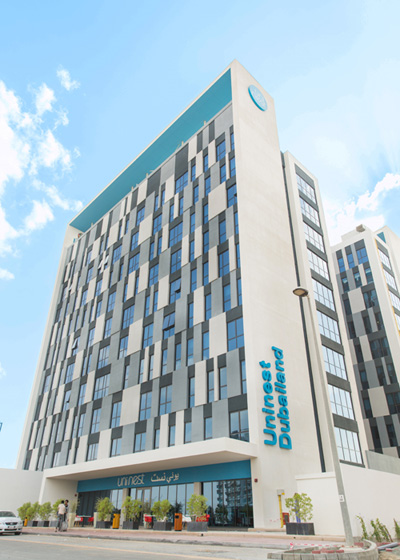 ENBD REIT's second NAV since listing, which has increased by 1.74% in the quarter (cum-dividend), now stands at USD 292 million (AED 1.074 billion) (ex-dividend and USD 1.15 per share). The Property Portfolio Value now stands at USD 352 million (AED 1.291 billion).
The REIT's first interim dividend since listing on Nasdaq Dubai was announced on the 22nd June and paid to shareholders on 12th July 2017. The dividend totaled USD 9,713,207, or USD 0.0382 per share. ENBD REIT aims to regularly distribute a semi-annual dividend with a target of achieving a return of 7% per annum or more.
Anthony Taylor, Fund Manager, Real Estate, Emirates NBD Asset Management, commented:
"We are pleased to announce the first dividend as a listed entity in this, quarter which was largely on target in terms of investors' expectations. Occupancy rates in the portfolio have improved to 86% in the first quarter of our financial year, following the acquisition of the Uninest Dubailand student accommodation facility from GSA in May 2017. This was an important acquisition for diversifying our holdings into an 'alternative' asset class, and has added further value to our portfolio by improving the unexpired lease term by 34% to 2.3 years. Further acquisition announcements are expected to follow shortly with management finalizing due diligence on a number of attractive investment opportunities."
ENBD REIT invests in predominantly income generating real estate, with the objective of providing investors with a regular source of income, by way of annual dividends of at least 80% of net audited annual income, and potential capital appreciation.
Leasing at Binghatti Terraces commenced in May 2017 with the building already 47% occupied by rental income. The building was acquired in 2016 with a 1-year rental guarantee provided by the seller, which expired on 26th July 2017.
Core Savills have been appointed to manage the Remraam residential building following Media Rotana vacating the property in July at lease expiry. Reinstatement works are currently underway with leasing to individual tenants expected to start early August. Remraam is ENBD REIT's smallest asset, at 6.4% by value, but remains a focus for management to ensure the building is occupied and generating rental income in the coming months. 
ENBD REIT is a leading Shari'a compliant Real Estate Investment Trust, invested in properties across Dubai's office, residential, and alternative real estate asset classes. In March 2017, the Company successfully raised USD 105 million when it listed on Nasdaq Dubai. The REIT's predecessor fund, Emirates Real Estate Fund ("EREF"), consistently paid a semi-annual dividend since its inception in 2005.
[ad_2]

Source link