[ad_1]

My local grocery store has installed a second set of self-service stations. And, while there are some minor complaints from older regulars, the majority of shoppers with lower item counts are gravitating toward them. It's not just grocery stores, either. From large retailers to fast food chains, the march toward self-service has been happening for over half a century.
Don't believe me? When was the last time you paid someone to pump your fuel?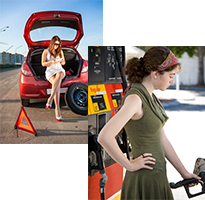 We live in a time period where consumers crowd-source their evenings and weekends using Facebook, Yelp, and other social platforms to see where others are going to be and compare reviews. And the mobile phone has become a constant companion.
Avoid lines by ordering movie tickets online? Make an online reservation? Have my food for pickup at a specific time? Yes, please!
Did you know Taco Bell has an ordering app? The Harvard Business Review reported digital app orders make an average 20% in revenue than orders made at the store – because people can take their time to compare menu items and select additional ingredients (SalesForce).

It's not just stores and restaurants, though. Most consumers prefer to take care of their own issues whenever possible. According to a survey commissioned by Nuance Enterprise, 67% of customers said they preferred self-service over speaking with a company representative (Zendesk). And some 68% of consumers would prefer watching an explainer video to solve product related problems (Wyzawl).
Self-service in the financial industry is hardly different. In fact, you may even say banking led the charge – introducing the automated teller machine (ATM) in the UK in 1967. Introduced in New York in 1969, technological innovation and deregulation saw the ATM rocket to a standard financial self-service channel in the 1970s and 80s. Now, with the introduction of online and mobile banking, many account holders are saving the branch for more personalized financial questions and services.
A study of Millennials from Facebook reported a 49% preference for mobile banking over other channels while 61% stated mobile has made banking better due to the ability to quickly track their money. Mobile is also the fastest-growing check deposit method across age groups – preferred by 21% of respondents for deposits $50 and under (Mercator). For higher-value deposits, however, older generations still visit the teller while young adults prefer the ATM.
What Now?
Whether it be an addiction to technology, an inability to handle human interaction, or simply a time-saving practice; when it comes to smaller, everyday tasks and questions more people are opting to take the self-service route. How can banks and credit unions keep up?
Cross-channel consistency – Every channel matters. Whether it be social media presence, mobile application, website, branch, phone service, or ATM – each one needs to convey the brand's core values, goals, and knowledge of the accountholder. Consistency and attention to detail will help improve relationships through trust and brand awareness.
Optimize for convenience – While every consumer has their reasons for choosing self-service, there is no denying the most seductive part is the perceived increase in speed. We are a society constantly striving for instant gratification. We want the money transfer now. We want the bill paid now. We want cash now. Design and plan for the culture of NOW.
Rethink personal interactions – With the prominence of self-service slowing taking over standard account processes, financial institutions can take the time to focus more on how to meet account holder needs. Reach out with financial advice. Generate new products and services. Provide financial education to the community. Nurture relationships and encourage financial questions.
Ultimately, the advent of self-service is certainly not the end of the world. The right preparation, planning, and testing can place your financial institution in the right place to face the future.
[ad_2]

Source link